the situation
Berea, Kentucky is a college town in central Kentucky that often struggles with its polarized views. There is a group known around the local community (The Berea Moderates) known to be particularly troublesome, as they typically show their dissent with progressive or liberal views loudly and without apology, sometimes going far enough to blatantly insult local officials.
There was a photo circulating on Facebook, the platform of choice in the area, from the Berea City Government depicting a councilwoman and the Mayor showing local schoolchildren around City Hall. Instead of focusing on the good deed and time taken by this councilperson, members of the group made comments regarding her body shape and choice of attire, claiming that leggings were not meant to be worn in front of children, in a professional setting, or in public by a public official. Comments dissenting against the councilwoman were also liked by a fellow male councilperson, showing their agreement with the body shaming comments.
Social Media
The original "hate post" was seen in the Berea Moderates Facebook group and shared by both the councilwoman and I, and it caught quickly. Before long, local citizens were showing their support for Councilwoman LaDouceur and the use of leggings in professional settings. One community member created a Facebook event to commemorate the 1st Annual "Berea Wears Leggings Day" where women all over the country joined and posted their photos of themselves in leggings in solidarity with the cause. Another created an event organizing citizens to wear their leggings to the local City Council meeting, of which many showed up. I worked to promote these things reinforcing the ideas being circulated by Councilwoman LaDouceur, such as revisiting the city's need for an ethics committee and social media policy for public officials. Given her quick wit and cheeky posts, the promotion was easy. She is a positive role model, the face of the new Berea woman, and many people were already looking to her for her reaction. These events spurred the hashtag #BereaWearsLeggings, which was used all across America to dispel misogyny, as well as local businesses creating deals and (positive) social posts in reference to the incident.
For the first time, the Mayor made it clear that the Council would only be hearing issues specifically on the agenda during the "Public Comment" portion of the Council meeting, thwarting any attempts by those of us in attendance who'd planned to deliver speeches. For this reason, I worked to promote the story using network connections. Emily made national headlines. Some unexpected support, such as that of George Takei, really resonated within the community.
National press coverage from outlets such as TODAY
National recognition of the hashtag on Facebook and Twitter
Personally quoted and cited within coverage
Direct reach and impact of earned social media efforts were as follows: 312,231 impressions; 300,148 post reach; 360 personal post engagements within a week
The celebrity endorsement of George Takei
Improved perception of Councilwoman LaDouceur
for women in conservative and moderate circles
Reinforcement for client's policies among key publics
the situation
TEDx sparks conversations that matter — and in March 2019, Appalachian Kentucky voices took center stage for the first time ever at TEDxCorbin. Why Corbin? In just three years, Corbin, Kentucky's downtown has gone from a 40 percent vacancy rate to nearly 0 percent. Its revitalization has taken the press by storm, and inspired other Appalachian towns in the region to repopulate their own Main Streets. Within a region that holds "place" and "storytelling" in high regard as part of its cultural tradition, Corbin is a natural fit to host Eastern Kentucky's first TEDx. A thriving rural community of 7,000 people, this small town is now home to a downtown summer concert series, a local coffee shop, several farm-to-table restaurants and, of course, the original Kentucky Fried Chicken restaurant. Corbin counts in its ranks residents who range from artists to tech entrepreneurs, farmers to professors, and a former Survivor contestant to several Harvard PhDs. The big need? Organic promotion.
Social Media
TEDxCorbin needed to establish a base following to support its event launch. To do this, branded content was created and shared, community influencers were sought out and utilized, and organizational partnerships were formed to increase sharing and visibility. After this establishment, the launch was set to begin. During this time, social was meant to promote the Youtube Live link and enhance the second-screen experience, so the focus was on reach and engagement. The main focus of the entire social strategy was definitely on the day-of strategy, which was solely my responsibility. Given that this was a first-time, regionally-focused event, the buzz had to be high to meet high goal numbers. Expectations were exceeded. See social samples and the day-of results below.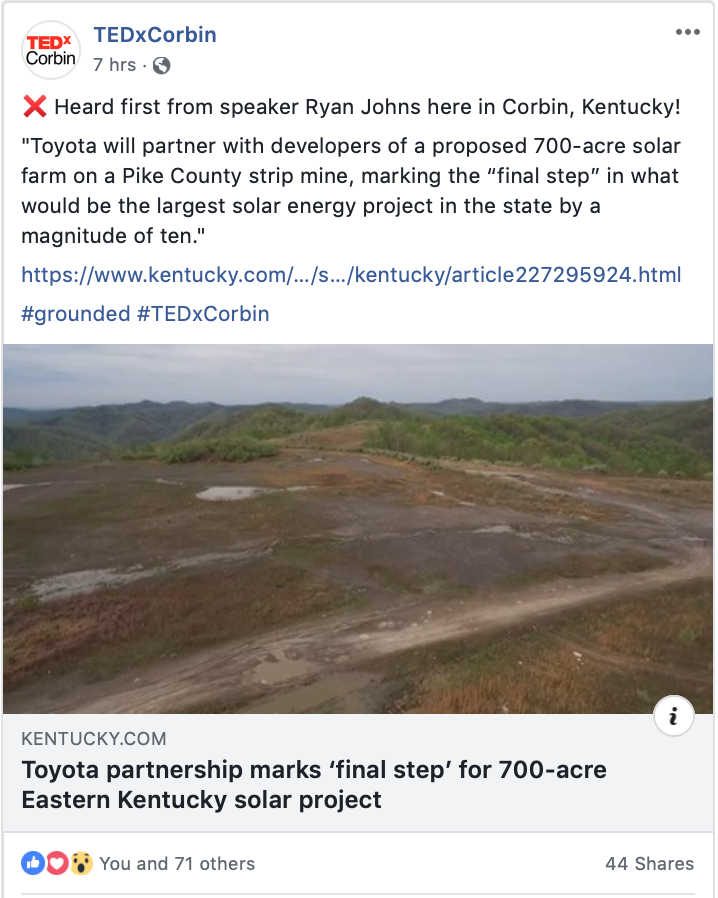 The event was sold out within hours of releasing tickets.
The live stream garnered 3,684 views the day of the event.
Twitter: 22,657 impressions, 130 retweets, 334 likes, and around 300 link (live stream) clicks, and an average 5% engagement over the course of 8 hours.
Facebook: 103 new page likes, 5,000 post engagements, post reach of 21,435
Instagram: 6,431 impressions, about 600 accounts reached, and an average of 100 views on Instagram Story.
the situation
Room in the Inn Berea is a community effort built upon the goodwill of the city of Berea, Kentucky. Built from nothing, the program was up and running within two months of the initial interest sessions. Drawing from other RITI models, including the original in Nashville, Tennessee, this program served the homeless population by coordinating inns and innkeepers to serve their rotating homeless shelter model as well as other community volunteers to provide three meals a day and other community resources. The first order of business was developing a recognizable brand while differentiating themselves from other local initiatives. Creating and amplifying social media channels and cultivating a consistent network of on-call supporters and volunteers on and offline was imperative in the program's sustainability.
Social Media
Given that the main focus was meant to be very community-focused, it was important to pinpoint which social media outlets would be necessary for cultivating regular audiences and dispensing immediate-need calls to action. Given that most of the community's population is known to be on Facebook and that most entities utilize it as well, this seemed like the most logical solution for organizing. The organizers' networks were leveraged, and community influencers were used to share the page within large groups full of community thought leaders. Social posts promoted community events and emphasized important donations, such as those for large food orders from local restaurants or vaccination drives from the health department, and they also asked for help filling in holes in their volunteer sheets with kind and uplifting language. Through "WE can do it"-type language, the tone of the page was set.
Social Posts
Branding
The mission was to create a brand that was distinct from the other RITI models. A logo with specific imagery was created represent RITI, and specific members of the community were brought into internal meetings to assist with intermingling with community engagements. Furthermore, guidelines for responding to volunteers, guests, and other stakeholders online were set. A unified voice was established, and certain points, such as the collaborative nature of this venture, were emphasized to the public.
Community relations
Accurate reporting was kept through innkeeper and registration materials that allowed on-the-ground volunteers to fill in the specific information. This allowed RITI to track their progress and dispense it to the community, one that I might add loves facts and politics. To combat rumors, such as that the program enabled drug users to continue using, volunteers kept careful track of their nightly stats and took note of testimonials that could promote the program.
The program also made appearances and updated the progress on their work through news appearances, city council meetings, and letters to the editor.
media relations
I, and other organizers, leveraged our network to gain press and media coverage. The initial push was to give the public an understanding of the program and the inner workings of it, emphasize community involvement, and establish the need for specific donations and partnership. Then, a small round of publicity was pushed for the mid-season report, delivered at a city council meeting. Finally, the last round of press for the season pushed the final impact of the program, the excitement for next year, and the needs that the community can be working to fill. This annual reporting will ensure that the program seems trustworthy and sustainable, keeping people engaged for the next season and hopefully allowing the program to expand.
PRess
Richmond Register
WBONTV
Richmond Register
Berea Online
Report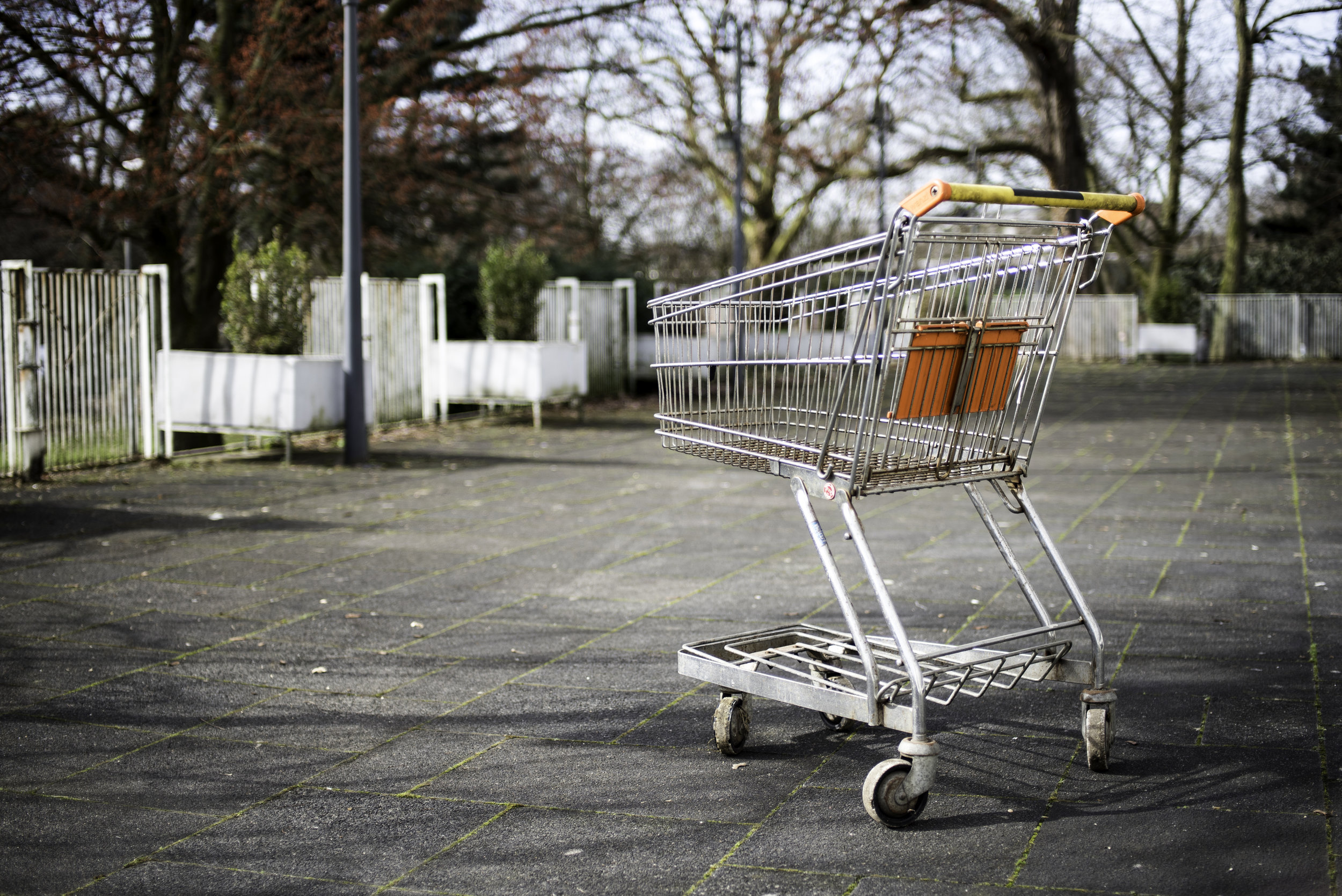 Room in the Inn
Organizational Results
Positive community view of the program, even in conservative circles. As a result of this and social media reach, RITI gained a network that was dependable and fast-acting. This included the support of local politicians and community influencers.

Over 500 Facebook likes within a two month period, an average of 15 post shares, 5-star reviews of the service, and a quick response time for messages.
Over 10,000 users reached in one month with consistent reach throughout with $0 in paid promotion.
Consistent, accurate, and positive regional coverage.
the situation
Fahe is a nonprofit CDFI in Berea, Kentucky. I was a member of the CHEF Program Pilot, which was the first round of what they hoped to be a long-running partnership between them and Rural LISC. This program matched its Members, nonprofit and quasi-governmental entities within Appalachia, with young professionals seeking work. The goal of this campaign was to strategically promote the program and its mission, encourage more applications from young professionals and Members, and show its effectiveness to secure funding.
social media
The best method to make and show progress to stakeholders was through social media efforts, because social media gives the opportunity to utilize social analytics to show KPIs. Efforts were mainly focused on Facebook, Fahe's blog, and Twitter.
I created a blog series featuring the current interns of the pilot program, focusing on how they are a valuable asset to Appalachia as young professionals while showcasing their diverse mountain backgrounds and aspirations. I did this by interviewing interns and supervisors, asking them personalized questions and crafting captivating stories from those interviews.
community relations
Research and experience gave me insight into marketing to young Appalachians. I knew that what I needed to do was put them into each intern's stories; if they identified with something in the article, then they would definitely share it.
Making the CHEF Program an integral artifact in the message of achievement and Appalachian pride gained a lot of praise, as interns shared their stories to their social media, then people identified with the message and kept sharing. Fahe staff and Board Members also found the series exceptional, and they shared them to their social media as well.
CHEF Pilot Social Media Campaign Results
Pilot content was the most shared & viewed content in the org's history.
Rural LISC continued its financial partnership with Fahe.
More Members and young professionals applied to the program in 2018.
The Situation
The community was, and still is, a majority Republican-voting area, meaning Wooten's beliefs and sexual orientation were different than the average voter. Since Wooten was also a Berea College employee (professor), he was also seen as a form of opposition to the city's financial and political independence from the college, which was seen as an encroaching and powerful entity in the city.
The community, mimicking the country, was highly divided on recent and past issues, with one of the hottest topics being fairness and Civil Rights for minorities within the community.
community relations
The community was, and still is, a majority Republican-voting area. Only a few other candidates were running on a Centrist-to-Liberal platform, so it was imperative to differentiate the candidate from them. Since Wooten was also a Berea College employee, he was also seen as a form of opposition to the city's financial and political independence from the college, which was seen as an encroaching and powerful entity in the city.
After examining voter issues, it was clear where the campaign's efforts would get the best foothold: fairness. Dedicating the campaign to fairness and promoting liberal policy beliefs on the College's campus capitalized on crucial votes from the community as well as the local student body. Mobilizing and empowering student voters pushed Wooten over the edge to beat reigning incumbents.
social media
Wooten faced direct opposition online, with people attacking his support of certain liberal policies as well as his occupation.
Part of the work to promote him also became crisis management, because a Facebook group worked to promote Republican candidates and to create and spread rumors about those that they opposed. They were a fake news mill meant to damage candidates' political and personal values. Nearly 24-hour online surveillance was required to find fires and to put them out with facts and information, such as the efficacy of certain policies and the true power of community entities.
Press
Rootin' for Wooten Campaign Results
The candidate was elected to City Council.

Current students were mobilized to vote and knew their voting rights, educating newer students in the next election.

Community members were heard at several local events so that their views could be better known when creating budgets and policy.
The situation
The National Comedy Center was still in its infancy, with construction on its second rescheduled completion date and new features being pitched all the time. The line between its identity and that of its sister institution, The Lucille Ball Comedy Museum, was still blurred. Thi problem was emphasized by the annual Lucille Ball Comedy Festival, because it's an event meant to publicize both entities and also bring in revenue for them.The biggest obstacle to its impending success, though, was lack of community buy-in. This was especially important due to the need for the community to attend events and become regular patrons of the Center when it is finished. The need was to build patronage.
media relations
Promoting the recent acquisition of the Carlin archives, the unveiling of the Lucille Ball statue, and the upcoming events and headliners of the Lucille Ball Comedy Festival were large parts of building regional pride in the Jamestown area. Social promotions were also important to reach this goal.
Press
The New York Times New York Upstate Niagara Gazette WBFO WRFA Jamestown
Community relations
Strategic efforts to reach local audiences included sending representatives to regional comedy events, print media placement and disbursement, and promotional events and offers available only to locals.
There was also a grant that required buy-in conformation from a certain number of local businesses, an affair handled personally by me. This involved conversations and interviews, plus paperwork and conformation letters that I also created.
National Comedy Center Campaign Results
Festival attendance from nearly all 50 states (41)
Record attendance
A-list comedians vying to perform
Acquisition of media exposure (CNN's History of Comedy) and grant funds for Center construction
$23 million of annual economic impact to Chautauqua, Cattaraugus and Erie Counties
The situation
Trust for Life of Kentucky had hit a plateau. They were getting very few sign-ups for organ donation as well as financial donations. Given their line of work, they were not equipped to create media materials to gain the attention of consumers, nor did they know how to reel them in, so to speak.
Research showed that the community was uninformed about organ donation, and that a majority of them also believed false information about the process. They also felt very far removed from the situation unless they had been directly impacted by organ donation.
The plan was to enact a campaign called Generations of Hope, meant to bring organ donation "Down Home".
Community relations
To combat misinformation, a local event was organized for the immediate community, a spaghetti dinner at the most sophisticated building in town. We hired a local band, wrangled a celebrity spokesperson (Muse Watson), and enlisted local gatekeepers (a priest, lawyer, and doctor) to dispense truths about organ donation to guests. To bring locals closer to the situation, the guests' dining area was decorated with photos of those who had benefited from organ donation within the community, and some of those people were invited to speak and implore guests to "just check yes" at the DMV.
media relations
The organization is regional, meaning community relations would only go so far. To get the message to a broader audience, a PSA was created and distributed to regional news stations, radio stations, and television providers. The PSA featured real people, not actors, portraying a scene between a young girl and her grandfather talking about organ donation.
Press about the campaign was targeted and concentrated in Central and Eastern Kentucky.
Press
Generations of Hope Campaign Results
The direct impact of the campaign was 2,919 new donors and $5,516 in funds raised for Trust for Life Kentucky.
The PSA aired state-wide and continued to draw publicity for the organization.
Campaign materials were used at local DMVs for informational purposes.